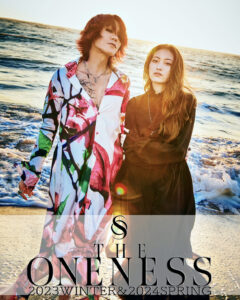 THE ONENESS
2023 WINTER & 2024 SPRING COLLECTION
tenbo x THE ONENESS
今シーズンのTHE ONENESS新作にてtenboとのコラボレーションが実現しました。
年齢・国籍・性別・障がいの有無を問わず平和への願いも込めて人の心をデザインするtenbo。
そして持続可能な世界を目指し、ヘンプ、オーガニックコットン、エコレザー、リサイクルポリエステルといった環境に配慮した素材でロックなエシカル・ファッションを提唱するTHE ONENESS。
命を尊び、地球との理想的共生を目指す両ブランドがタッグを組みました。
鮮やかで力強いコレクションをお楽しみください。
We are pleased to announce our collaboration with tenbo on this season's new THE ONENESS collection.
tenbo designs human hearts with a wish for peace regardless of age, nationality, gender, or disability.And aiming for a sustainable world, THE ONENESS advocates rock ethical fashion with eco-friendly materials such as Hemp, Organic Cotton, Eco Leather and Recycled Polyester.
Both brands, which respect life and aim for an ideal symbiosis with the earth, have joined forces.
Please enjoy the vibrant and powerful collection.